ProMinent DCM 200 ORP Controller
Item #:
05-500
Price:
Inquire
Ship Qty:
1 EACH
Catalog Page:
N/A
Ship Weight:
not available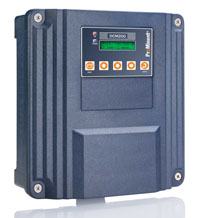 Representation of product. Size may vary.
Image below shows DCM2 with panel mount and by-pass assembly. iPad demonstates remote monitoring & control.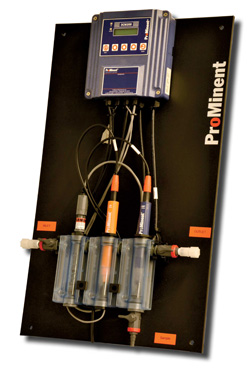 PROMINENT DCM200 ORP CONTROLLER — The DCM2 Series controllers provide the same quality of product as the ProMinent DCM5 Series controllers. The use of the ProMinent controller can be used stand alone or can be fully interactive with Ethernet/IP interface. Allows for true remote monitoring and control of your pool or spa components via network enabled PC, smart phone, iPad (or similar tablet devise) which requires connection through your computer network or individual wireless IP address.
The DCM2 controller features 2 line LCD display, pH control, ORP control, temperature control, and monitors system flow rates. Additional features include: PID (Proportion Integral Derivative) Pump Control to work with your VFD and Data Logging for record keeping and system performance validation online or via USB port. Inputs/Outputs: 2 x digital inputs, 3 x output/control relays, 2 x assignable digital outputs. Includes: controller, flow cell assembly with pH, ORP, and temperature sensors, and HTML server with DHCP (Dynamic Host Configuration Protocol), which allows the controller be connected to your network and communicate on an IP Network. The controller and flow cell assembly are mounted on a PVC back panel for ease of installation. NEMA 4X controller enclosure.120 v/ 60 Hz with battery backup. 5 Year Electronics Warranty.
Available in California, Nevada, Oregon, Washington, Indiana and Florida. Inquire for availability in other states.