UltraSite bench w/ back, 6' wall mount, perforated
Item #:
77-405
Price:
$677.75
Ship Qty:
1 EACH
Catalog Page:
207
Ship Weight:
168 lbs.


Representation of product. Size and Mounting method may vary. Bench back not shown. Sold separately.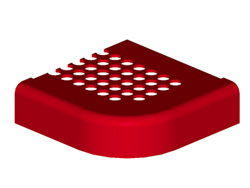 Perforated Pattern
ULTRASITE BENCH WITH BACK, 6 ' LENGTH, WALL MOUNT, PERFORATED PATTERN
ULTRASITE BENCHES - GENERAL INFORMATION
— Expanded steel benches feature premium, UV protected,Thermoplastic Coating. Superior adhesion ensures a smooth, shiny finish. If needed, coating is easily repaired in the field. Extra deep seats are 15" wide for added comfort. Available in Diamond or Perforated metal plank styles. Mounting options are Portable, Surface Mount or Wall Mount. All stainless steel hardware. Inquire for frame and seat colors.