multiLIFT w/ folding seat, armrests, and activation key
Item #:
81-808
Price:
$4,941.25
Ship Qty:
1 EACH
Catalog Page:
N/A
Ship Weight:
162 lbs.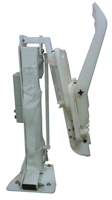 The multiLift with seat folded has a 26" footprint!
P>
Representation of product. Lift options shown below may vary.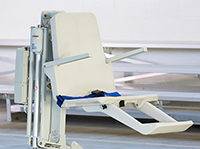 MULTILIFT AQUATIC LIFT WITH FOLDING SEAT AND ARMRESTS AND ACTIVATION KEY — Versatile lift with the option to install it as a fixed or removable lift. Maximum deck-to-water level distance is 8". Right or left side mounting allows for versatile location on the deck. Powder coated stainless steel and aluminum construction. Powered by a 24-volt rechargeable battery. LiftOperator Intelligent Control System with activation key to prevent unauthorized use of lift. Includes armrests, 4 anchor bolts and inserts, anchor jig, seat belt and battery cover. Lifting capacity: 350 lbs. ADA Compliant.
Set Back: 8.5" - 13"
The Wheel-A-Way option provides flexibility to remove the lift for storage. To order see the Related Items tab below.
The Measurement Guide/Deck Profile Sheet located below under the Product Documentation tab, must be completed to order this lift. It can be scanned and emailed to Sales@lincolnaquatics.com or faxed toll free 888/ 680-2825.
For more detailed information and drawings, see the Product Documentation tab below.
See our S.R. Smith video library for MultiLift Installation, Operation & Troubleshooting videos click here