Free-Flo 14 x 14 VGB grate & retro frame
Item #:
39-723
Price:
$127.50
Ship Qty:
1 EACH
Catalog Page:
N/A
Ship Weight:
10 lbs.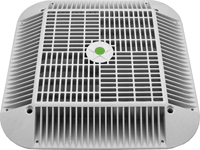 Lime Green Colored "Swimming Man" Button Easily Identifies VGB 2008 Compliant Cover from On Deck and Underwater.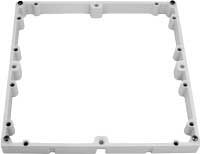 FREE-FLO 14 X 14 RETROFIT TO 9 X 9 SQUARE ANTI-ENTRAPMENT SUCTION OUTLET COVER AND RETRO-ADAPTER FRAME — For single or multiple drain use (see installation instructions)
Single Floor: 560 GPM at 2.1 fps / Wall: 300 GPM at 1.2 fps
Floor/wall: 394 GPM at 1.5 fps
84 square inch opening
Retrofit adapter frame fits into existing 9" mud frame* with either epoxy or screws or both and cover anchors into in-molded brass inserts in frame with four fine thread machine screws. Trademarked VGB compliance button easily identifies VGB 2008 compliant cover from on deck and underwater. #316 stainless steel screws. Manufactured from superior UV-resistant engineered polymers. Easily and safely retrofits to most brands' existing frames* (see cross-reference chart and installation instructions for details and special requirements below under 'Product Documentation' tab). Ideal for retrofitting over all existing 8" sumps and/or frames by anchoring directly into pool finish (plaster, tile, fiberglass, etc.) using four brass anchors and stainless screws in kit #BIK4. All components (cover, frame, screws) meet or exceed NSF 50/ASME/ANSI A112.19.8a-2008 national standards and ASTM G154 UV testing exposure.
AquaStar grates are to be replaced every five years from date of install.