LaMotte Mobile Commercial WaterLink Spin Touch w/ case
Item #:
24-002
Price:
Value Price:

$1,117.50

$750.25



Ship Qty:
1 EACH
Catalog Page:
82
Ship Weight:
10 lbs.
LAMOTTE MOBILE COMMERCIAL WATERLINK SPIN TOUCH WITH UPRIGHT CASE
— The WaterLink® SpinTouch® water analyzer designed for pool operators and service professionals received NSF/ANSI 50 certification level L1. Each sealed reagent disk contains the precise amount of reagent needed to run a complete series of tests. Just fill one unique spin reagent disk with less than 3 mL of water and all your vital tests are done automatically. The precise WaterLink® SpinTouch® uses patented centrifugal fluidics photometry to measure up to 10 different tests in only 60 seconds. All the tests results can be viewed on the full-color touchscreen display or transferred into the LaMotte water analysis software program. This is the most advanced system for precise use of wet chemistry methods ever produced! Now pool and spa analysts can achieve precision without time consuming test and clean-up procedures. This groundbreaking analysis system is so simple anyone can use it! No vials to fill, no prep time, no guessing!
Includes: Photometer Instruction Manual & Quick-Start Guide 3 Syringes Meter Check Disk USB Cord with USB Wall Adapter Upright Waterproof Carrying Case with Foam insert - ideal for 3-Use disk users(holds meter, and accessories.)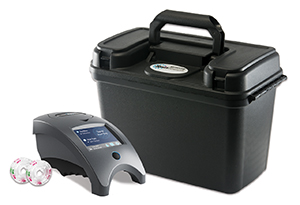 | | | |
| --- | --- | --- |
| | LaMotte Waterlink Spin Disk, Chlorine/Bromine + Phos., 50 | $165.00 |
| | LaMotte Waterlink Spin Disk, Chlorine/Bromine + Borate, 50 | $165.00 |
| | LaMotte Waterlink Spin Disk, Biguanide +Borate, 50 | $165.00 |
| | LaMotte Waterlink Spin Disk, Chlorine/Bromine, 50 | $155.00 |
| | LaMotte Waterlink Spin Disk, Chlorine/Bromine, 3-Way, 50 | $155.00 |