Item #:
81-900
Price:
$6,226.25
Ship Qty:
1 EACH
Catalog Page:
184
Ship Weight:
216 lbs.

RANGER POOL LIFT WITH ANCHOR — Ideal for lighter duty needs. Low profile design and smaller foot print for tight deck spaces. Includes: dual flipup arms with removable and adjustable foot rest. Accessory upgrade pack includes: extra battery, control box, head rest, chest strap, lift cover and transport cart. ADA Compliant.
The Measurement Guide/Deck Profile Sheet located below under the Product Documentation tab, must be completed to order this lift. It can be scanned and emailed to Sales@lincolnaquatics.com or faxed toll free 888/ 680-2825.
For more detailed information and drawings, see the Product Documentation tab below.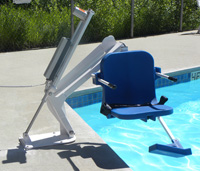 Representation of product. Lift options may vary from image.