Track Start Plus Adjustable Back Plate Kit
Item #:
52-250
Price:
Sale Price:

$844.40

$592.50



Ship Qty:
1 EACH
Catalog Page:
148
Ship Weight:
10 lbs.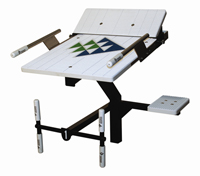 Representation of kit on starting plaform. Side hand grip kit sold separately. Starting platform not included.
TRACK START PLUS ADJUSTABLE ANGLED BACK PLATE KIT — New, adjustable, angled back plate kit can be added to your new and existing Track Start platforms to create the ultimate starting platform system. Recent FINA approval allows for the addition of the Track Start Plus platform kit, which optimizes the position of the swimmers rear leg, for a more powerful start. The back plate is canted at 30 degrees to render a 90 degree knee angle. The back plate assembly (9" x 24") mounts to side of platform top, is easily removable, and adjusts to three positions. Stainless side hand grip kit can be purchased independently from the back plate unit and can be added at any time. Can be used with Colorado Time Systems RJP's. Available in white and a variety of optional sand top colors - see below. Includes mounting hardware.

blue, white, red, green, yellow, black, cranberry
Track Start Plus Side Hand Grip Kit, set of 2, S.S.
$261.76

Track Start Plus Side Hand Grip Kit, set of 2, black

$251.12




$183.16

Track Start Plus Powder Coat Upgrade- Hand grip kit
$39.93

Track Start Plus Color Upgrade - Back Plate
$35.83