Item #:
26-220
Price:

Call for special price!

Sorry, this item is blocked and no longer available.
DOLPHIN C7 VACUUM
— Our most popular commercial vacuum! The Dolphin commercial robots make maintaining your pool facility a breeze. Just plug-in, press power and go. When finished, just open, remove and rinse filters clean. Dolphins use CleverClean Smart Navigation to ensure complete pool coverage. The C7 features a large capacity fine filter basket ensures a clogfree operation that removes all leaves, dirt and debris. Upgrade with two additional filter baskets for multiple layers of filtration. The Dolphin C7 robotic pool cleaners come with a remote control to spot clean any potential problem areas in your pool facility. Durable tracks and dual scrubbing brushes create the friction needed to remove leaves, dirt and debris on the floor - leaving your pool sparkling clean.
---
Maytronics Dolphin C7 Item Specifications:
Filter - Top Load, Fine basket
Filter Porosity - Fine (100 microns)
Pool Size - Up to 105'
Cleaning Coverage - Floor
Cleaning Modes - Quick, Standard, Enhanced
Cleaning Cycle Times - 4 / 5 / 6 hours
Mobility - Maze
Suction Rate - 9,240 gph
Number of Brushes - 2
Remote Controllable - Yes
Cable Length - 115'
Full Filter Indicator - Yes
Delay Start - No
Caddy - Pro Caddy Included
The Dolphin C Class comes with a limited 2 year warranty covering parts and labor.
See the Product Documentation below for more details.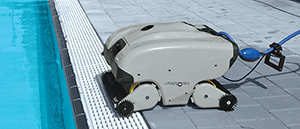 Sort by:

Dolphin C7/140 100 Micron Filter
91-115
$353.50
---

Wave C7/140 Tracks
91-117
$234.87
---

Dolphin C7 Wave PVC Brush
91-116
$73.75
---