Lincoln Aquatics is open and will remain open throughout this crisis to ensure the availability of pool and hot tub sanitization supplies for our customers, to insure proper sanitization and to keep bodies of water safe for your community. We are available to serve you daily, through our website, via email at: cs@lincolnaquatics.com , or by calling us at 1-800-223-5450.




Insulated Floating Pool Covers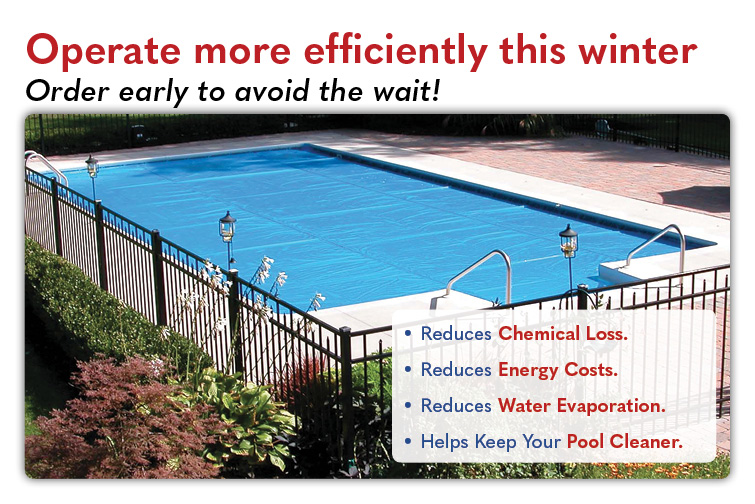 Call us today! 800/223-5450
Click Here to Learn More About Energy Efficiency and Lincoln Aquatics' Turn Key Design, Project Management, Installation and Rebate Management Services.
| | | |
| --- | --- | --- |
| | 1214 XL Cover, weighted, 1-299 sq ft | $4.65 |
| | 1214 XL Cover, hemmed, 1-299 sq ft | $4.36 |
| | 1212 DLX Cover, weighted, 1-299 sq ft | $4.35 |
| | 1212 DLX Cover, hemmed, 1-299 sq ft | $3.96 |
| | 1014 RS Cover, weighted, 1-299 sq ft | $3.78 |
| | 1010 STD Cover, weighted, 1-299 sq ft | $3.55 |
| | 1014 RS Cover, hemmed, 1-299 sq ft | Inquire |
| | 1010 STD Cover, hemmed, 1-299 sq ft | $3.40 |
| | 1214 XL Cover, weighted, 300-999 sq ft | $3.12 |
| | 1214 XL Cover, hemmed, 300-999 sq ft | $3.05 |
| | 1212 DLX Cover, weighted, 300-999 sq ft | $2.95 |
| | 1214 XL Cover, weighted, 1,000-1,999 sq ft | $2.92 |
| | 1214 XL Cover, hemmed, 1,000-1,999 sq ft | $2.90 |
| | 1212 DLX Cover, weighted, 1,000-1,999 sq ft | $2.84 |
| | 1212 DLX Cover, hemmed, 300-999 sq ft | Inquire |
| | 1214 XL Cover, weighted, 2,000-2,999 sq ft | $2.77 |
| | 1214 XL Cover, hemmed, 2,000-2,999 sq ft | $2.75 |
| | 1212 DLX Cover, weighted, 2,000-2,999 sq ft | $2.69 |
| | 1212 DLX Cover, hemmed, 1,000-1,999 sq ft | $2.67 |
| | 1214 XL Cover, weighted, 3,000 + sq ft | $2.62 |