Lincoln Aquatics is open and will remain open throughout this crisis to ensure the availability of pool and hot tub sanitization supplies for our customers, to ensure proper sanitization and to keep bodies of water safe for your community. We are available to serve you daily, through our website, via email at: cs@lincolnaquatics.com , or by calling us at 1-800-223-5450.
Chemtrol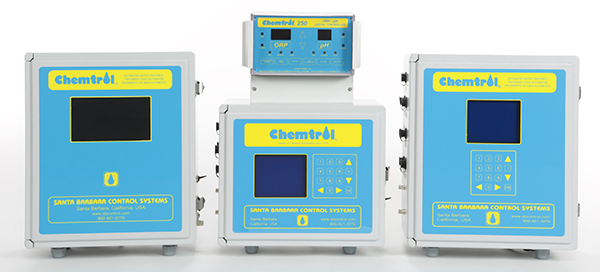 CHEMTROL PC CONTROLLERS
— Chemical automation is now recognized as a must for proper treatment of swimming pools and spas. The controller initiates the addition of your sanitizer and pH control chemical based on need and maintains the level you select as your "desired" set point. Costly underfeeding and overfeeding is virtually eliminated. Helps preserve the life of your pool equipment and surfaces. Most facilities see a payback in one or two years.
The Chemtrol PC programmable controllers use advanced microprocessor based technology to introduce a new standard of sophistication in automated water treatment. All the monitoring and control communication functions are incorporated into a single integrated command center. The main screen display enables the operator to supervise all the process functions at a glance and to quickly respond to any changing condition. Chemtrol PC options allow you to expand the parameters of your automation system for additional monitoring capabilities
Chemtrol PC 7000 controller
$34,821.39

Chemtrol PC 6000 controller
$30,178.54

Chemtrol PC 7100 controller
$27,500.69

Chemtrol PC 5100 controller
$18,261.89

Chemtrol PC 5000 controller
$10,560.26

Chemtrol 4000 Filter Controller
$7,260.18

Chemtrol PC 3000 controller
$7,260.18

Chemtrol 255 controller

$5,499.65




$3,850.00

Chemtrol PC 2100 controller

$5,060.13




$4,230.00

Chemtrol 250 controller

$3,024.68




$1,710.00

PPM control option (3000)
$3,000.27

PPM control option (6000)
$3,000.27

PPM control option (2100)
$2,995.20

Chemtrol PPM probe
$1,759.19

Flow monitoring option (3000)
$1,650.02

Flow monitoring option (5000)
$1,650.02

Pressure monitoring option (3000)
$1,650.00

Pressure monitoring option (5000)
$1,650.00

Flow monitoring option (2100)
$1,624.39

HP sensor cell cabinet
$1,557.18