Lincoln Aquatics is open and will remain open throughout this crisis to ensure the availability of pool and hot tub sanitization supplies for our customers, to ensure proper sanitization and to keep bodies of water safe for your community. We are available to serve you daily, through our website, via email at: cs@lincolnaquatics.com , or by calling us at 1-800-223-5450.


Path:
Shop
>
Virginia Graeme Baker Pool and Spa Safety Act


Virginia Graeme Baker Pool and Spa Safety Act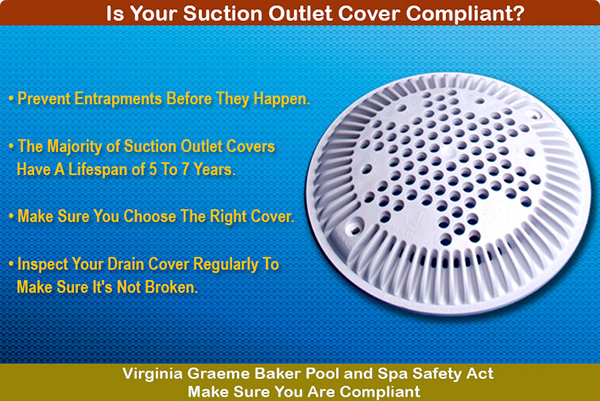 For compliance with the ANSI/APSP 16 Standard, all polymer (plastic) drain covers and screws need to be replaced every 5 years from the date of installation. The facility owner should keep records. Make sure frame/sump is structurally sound and screws have at least 3 threads of engagement, or replacement of the frame/sump is also necessary.
For drain covers that are damaged, missing screws, or not securely fastened, the pool should be immediately closed until the problem cover or screws are repaired or replaced.
If your cover was recalled because it needed the addition of a riser ring the cover replacement date starts with the initial installation of the cover - not the date of the riser ring installation.
| | | |
| --- | --- | --- |
| | AEGIS stainless VGB sump, 18" x 18" x 18", with grate | Inquire |
| | AEGIS stainless VGB sump, 24" x 24" x 24", with grate | Inquire |
| | SuperFlow 18 x 72 X 24 VGB sump w/ grates | $4,865.28 |
| | Stainless 36 x 36 VGB sump w/ grate | $4,267.66 |
| | SuperFlow 18 x 54 X 24 VGB sump w/ grates | $2,975.69 |
| | Stainless 24 x 24 VGB sump w/ grate | $2,899.72 |
| | Stainless 18 x 18 VGB sump w/ grate | $2,233.29 |
| | AEGIS Anti-Entrapment shield, 30 x 30 | $2,164.91 |
| | SuperSump 18 x 18 VGB sump w/ grate, pack of 2 | $2,130.88 |
| | Stainless 12 x 12 VGB sump w/ grate | $1,717.74 |
| | SuperFlow 18 x 36 x 15 VGB sump w/ grates | $1,695.20 |
| | Stainless 44 x 44 VGB cover | $1,683.27 |
| | Pentair IntelliFlo VS+SVRS pump, 3 HP | $1,655.20 |
| | Emotron PSP20, 2.0-3.0 HP, 120V, single phase | $1,264.16 |
| | Emotron PSP20, 10 HP, 208/230V, single phase | $1,264.16 |
| | Emotron PSP20, 20 HP, 480V, 3 phase | $1,264.16 |
| | Stainless 32 x 32 VGB cover | $1,258.28 |
| | Emotron PSP20, 0.5-1.5 HP, 120V, single phase | $1,171.91 |
| | Emotron PSP20, 5.0-7.5 HP, 208/230V, single phase | Inquire |
| | SuperFlow 18 x 18 VGB frame & grate assembly, set of 2 | $1,129.51 |