Clear Comfort Systems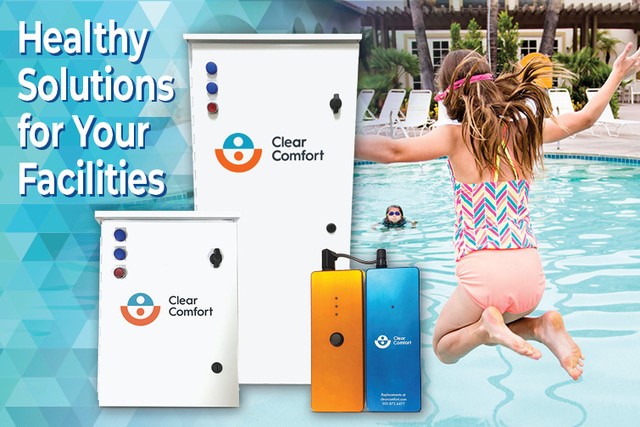 Discover
cleaner, clearer and healthier water with Clear Comfort's
Hydroxyl-based Advanced Oxidation Sanitation Systems.
This patented Advanced Oxidation Process (AOP) technology creates powerful hydroxyl radicals that destroy the toughest contaminants and recreational water illnesses, like Cryptosporidium, on contact. Clear Comfort offers a better, more affordable and easier alternative to UV and ozone systems for supplemental disinfection. With Clear Comfort, your facility can improve water and air quality, while
reducing up to 50% of chlorine use and costs.
In addition, Clear Comfort's technology is third-party proven to reduce over 70% of harmful disinfection byproducts and other types of combined chlorine. With treatment capability that ranges from spas to waterparks, join other top aquatic facilities across the nation that have upgraded to Clear Comfort.
Sale prices end 7/31/20!
Clear Comfort CCW500-120 System

$35,000.70




$31,500.63

Clear Comfort CCW300 System

$17,500.35




$15,750.32

Clear Comfort CCW300A-120 System

$11,661.30




$10,495.17

Clear Comfort CCW500 Replacement Cartridge
$5,828.32

Clear Comfort CCW300 Replacement cartridge
$3,495.28

Clear Comfort CCW100 System

$3,494.24




$3,144.82

Clear Comfort CCW300A Replacement Cartridge
$2,328.24

Clear Comfort CCW100 Install Kit
$309.25

Clear Comfort CCW300A-120 Install Kit
$309.25

Clear Comfort CCW100 Replacement Cartridge
$283.26