Lincoln Aquatics is open and will remain open throughout this crisis to ensure the availability of pool and hot tub sanitization supplies for our customers, to ensure proper sanitization and to keep bodies of water safe for your community. We are available to serve you daily, through our website, via email at: cs@lincolnaquatics.com , or by calling us at 1-800-223-5450.
Tropitone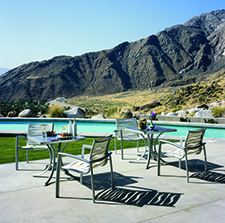 ...the leader in the casual furniture industry. Tropitone continually produces the most innovative furniture designs while maintaining comfort, style and dependability.
All of Tropitone's frames are made of extruded aluminum for strength and then welded, using full circumference welds. Each weld is then buffed to eliminate any rough edges. Frames are powder-coated after a three-stage, pre-wash system to completely encapsulate and seal the frame. Tropitone finishes are second to none. Virgin vinyl strapping with built-in mildew inhibitors and ultraviolet stabilizers are then used to complete the product. All Tropitone contract furniture is backed by a 5 Year Warranty.
Experience the Tropitone difference!
| | | |
| --- | --- | --- |
| | Portofino II market umbrella, 9', D fabric | $1,202.02 |
| | Portofino II market umbrella, 9', C fabric | $1,092.69 |
| | Portofino II market umbrella, 8', D fabric | $1,062.84 |
| | Portofino II market umbrella, 7', D fabric | $1,034.82 |
| | Portofino II market umbrella, 9', B fabric | $1,020.11 |
| | Portofino II market umbrella, 6', D fabric | $988.96 |
| | Portofino II market umbrella, 8', C fabric | $964.76 |
| | Portofino II market umbrella, 7', C fabric | $940.22 |
| | Portofino II market umbrella, 8', B fabric | $901.18 |
| | Portofino II market umbrella, 6', C fabric | $897.96 |
| | Portofino II market umbrella, 7', B fabric | $879.54 |
| | South Beach EZ Span Chaise Lounge | $855.79 |
| | Portofino II market umbrella, 6', B fabric | $839.90 |
| | Tropitone Contract Umbrella, 7 1/2', C fabric | $686.43 |
| | Tropitone Contract Umbrella, 7 1/2', B fabric | $638.14 |
| | Tropitone 48" round table | $608.39 |
| | Tropitone 48" round table, with umbrella hole | $608.39 |
| | Tropitone Contract Umbrella, 7 1/2', A fabric | $597.32 |
| | La Scala chaise lounge | $579.66 |
| | Tropitone 42" round table | $552.07 |