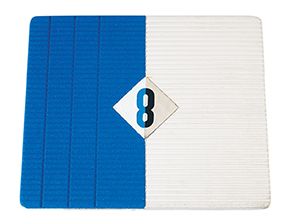 PARAGON SAND TOP REFINISHING
Existing polypropylene tops can be refinished with new sand finish.
Improves platform safety and looks.
Color: white. Custom colors available for additional charge.
Image above : Blue side has been refinished and the white side shows worn, non-refinished side.
Customize To Your Facility
Add a Color to the Top, Step or Backplate, Virtually any color can be matched using the Pantone Matching System. Color is mixed into and applied with our unique sand finish.

Add a Custom Logo to the Top or Backplate, Team and School logos look great when applied to your Poly Top or Backplate using our unique process. Groove pattern is designed around the logo. Sand finish is applied to alternating colors inside the logo graphic for outstanding appearance and function.
Powder Coat the Pedestal and Side Hand Grip Kit, Pedestal powder coating is available in a variety of colors. Combined with our platform top colors and graphics, this option can make your starting platform one-of-a-kind.
Sort by:
---
---
---
---
---
---
---

Pedestal powder coating up-grade, each
52-107
$318.50
---

Paragon platform top custom color, each
52-105
$134.25
---