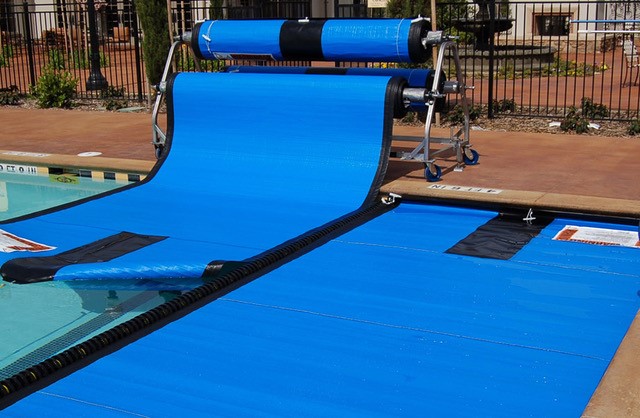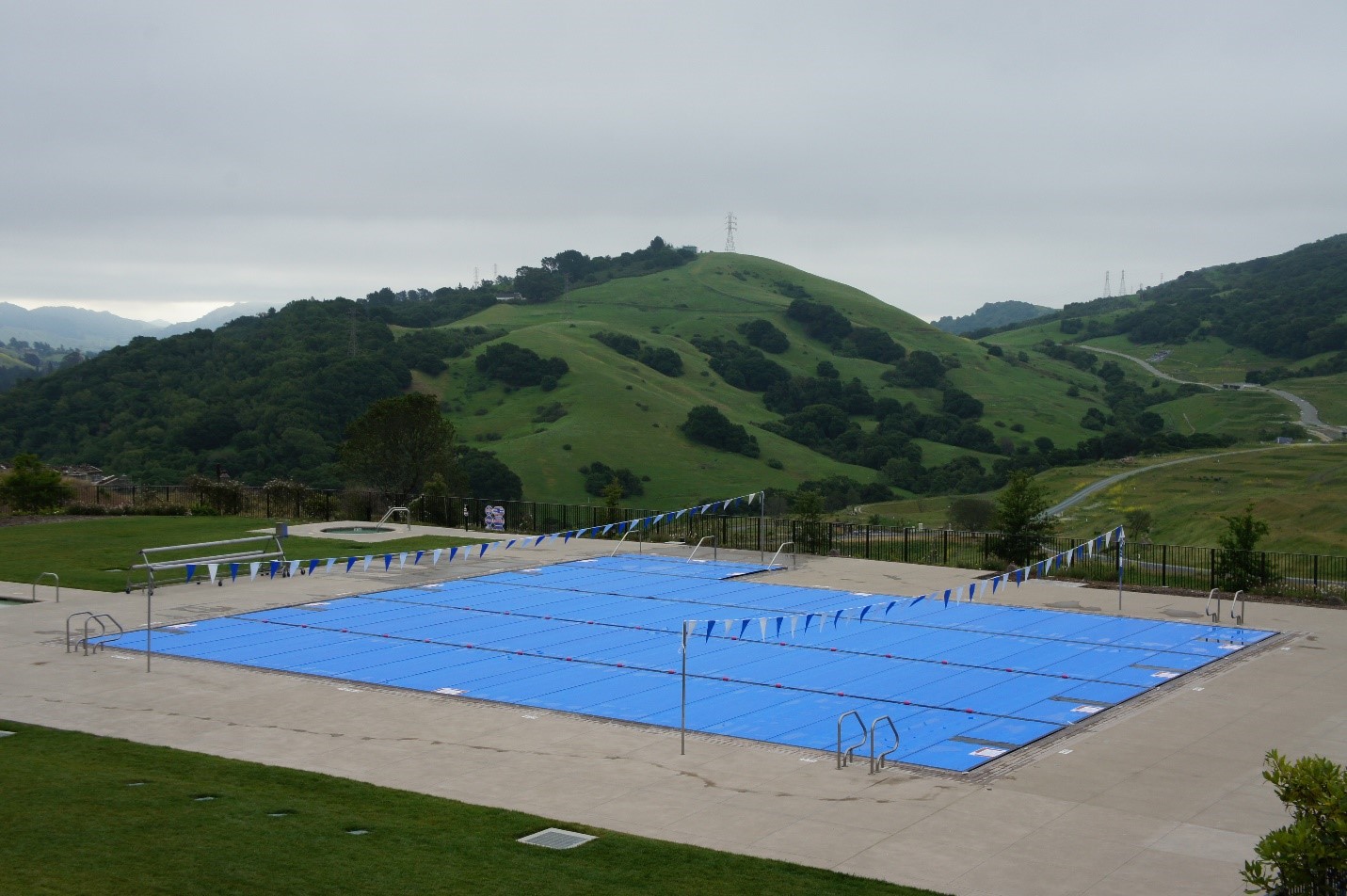 S.R. SMITH THERMAL POOL COVERS — Save 60-70% of your heating costs by using an insulated floating pool cover. Reduces water evaporation, chemical loss, energy costs, and will help keep your pool cleaner. Payback on most covers is less than one year. Each pool cover is custom designed and fitted to your pool dimensions and is priced per square foot. Pool covers are offered in Standard and XER, 12 x 10 stitch count, for both indoor and outdoor pools. Blue top black bottom. UV resistance. Weighted, anchored edge with extruded UVR flex vinyl weights for outdoor pools.
ENERGYSAVER STANDARD POOL COVER —The EnergySaver Standard provides the best value for thermal pool covers on the market. It utilizes Quadra Seam stitching on the first and last section of each cover. 5-YEAR PRO-RATED WARRANTY.
ENERGYSAVER XER POOL COVER— The EnergySaver XER is a high-strength pool cover designed for heavy duty use. It has all the features found in the EnergySaver Standard thermal pool cover but includes several additional features for greater abrasion resistance and strength, stronger seam configurations, and extra-reinforced ends. 7-YEAR PRO-RATED WARRANTY.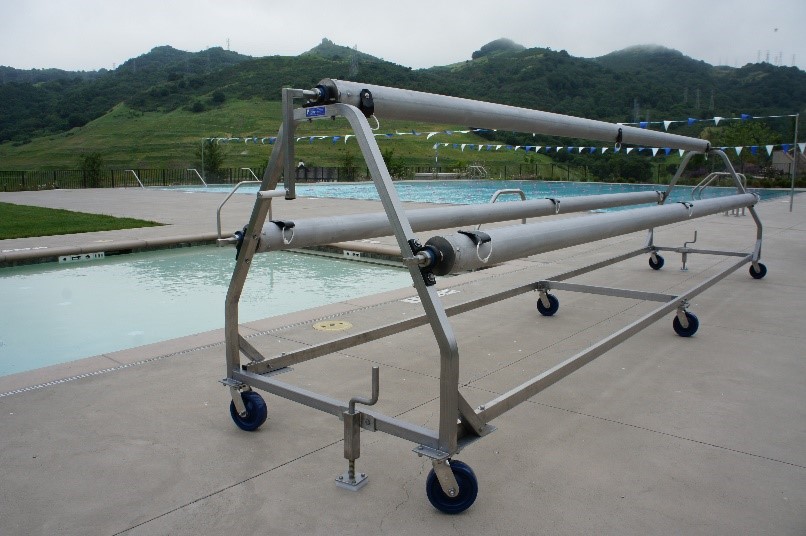 S.R. SMITH STAINLESS STEEL STORAGE REELS— Specifically designed for easy removal and storage of your insulating pool blanket. All-welded reels are constructed of triangular support 1 ½ x 1 ½, 11-gauge type 304 stainless steel. Each reel is supplied with a crank handle for safety and ease of handling. On multiple shaft reels, the crank handle can be easily be moved to another shaft. The winding tube is constructed of 4 1/2" diameter type 304 stainless steel, with three pool cover attaching straps on each tube. Each reel has two stainless steel screw jack brakes on each end for securely holding reel in place. All reels come with 6 – 1,650 lb. casters. Determine which size reel to purchase by sizing it 1' wider than your widest pool cover panel. Available in 10' to 20' lengths in single, double, or triple winding tube designs. Smaller, custom sizes available. Maximum capacity for each reel is 150 lineal feet per winding tube. 10-year Warranty.
For quote requests or more information please call us at (800) 223-5450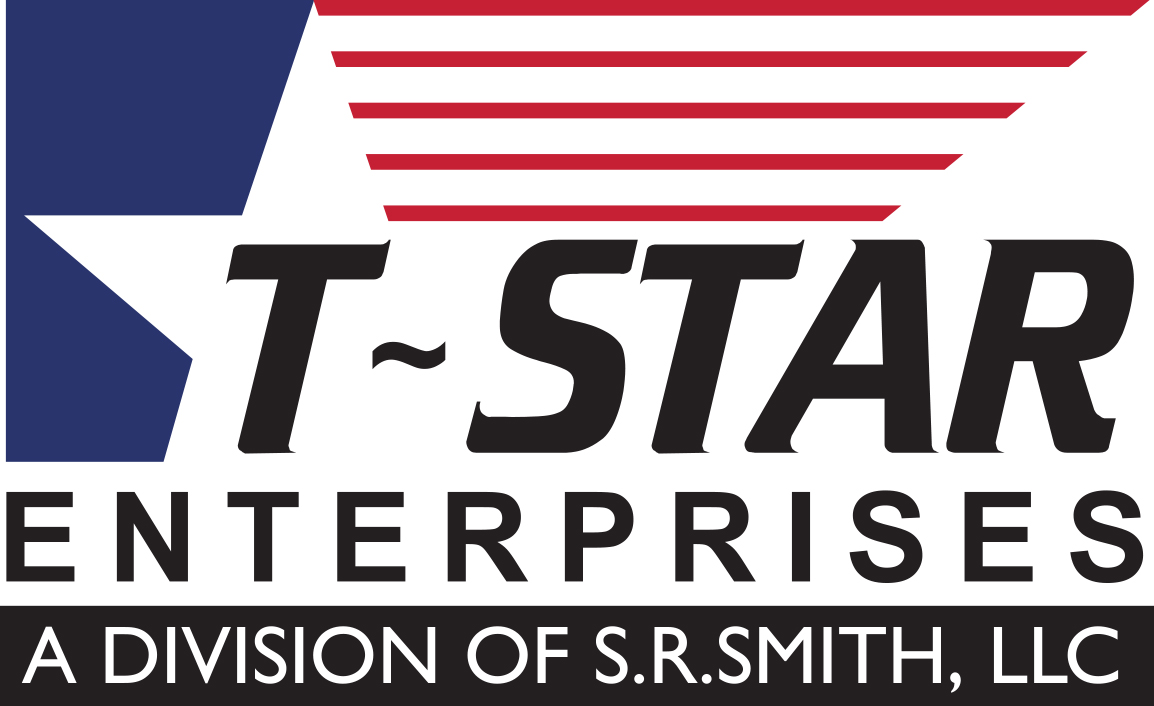 Sort by:

UNA Automated Rewinder
84-230
Inquire
---

Pool Cover Deployer
85-240
Inquire
---

Energy Saver Standard Pool Cover
84-215
Inquire
---

Energy Saver XER Pool Cover
84-220
Inquire
---

Pool Cover Storage Reels, powder coated S.S.
84-225
Inquire
---

Storage Reel Covers
85-245
Inquire
---