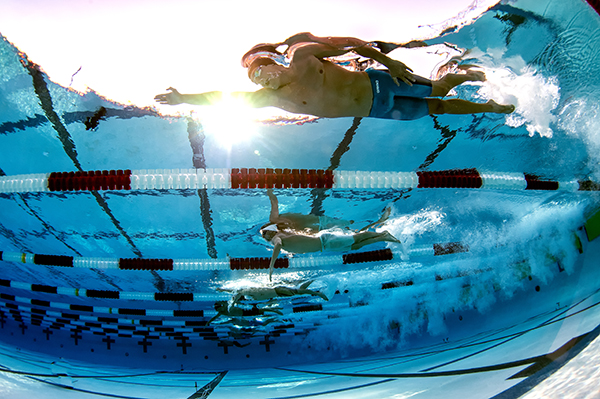 Competitor Announces a New Protective Formula!
Cutting Edge Polymer Stabilization Components

Highly Weatherable Pigments

Increases Life of Discs




New Competitor Lane Line Material Improves Durability
Medina, Ohio - Following months of research and testing, Competitor has released a new lane line material with enhanced performance and durability that exceeds its own superior standards. Competitor is proud to announce a new protective additive formula with cutting edge polymer stabilization components and highly weatherable pigments. The new formula, named LifeSpan+ delivers a superior product that will substantially increase the useful life of Competitor discs in the harsh pool environments. The LifeSpan+ product was developed in collaboration with the University of Akron Institute of Polymer Science & Polymer Engineering and A. Schulman, a leading international supplier of high-performance plastic compounds and resins. LifeSpan+ is available only in Competitor-brand lane lines. It will be available from distributors on products shipping immediately."We are grateful for the hard work the University of Akron and A. Schulman put forth to help us enhance our product," said Brad Underwood, company president. "They share our commitment to research and development. Our customers can continue to trust us for durability and unmatched performance." Since 1960, Competitor has been the international leader in the production of lane lines and other swim products for competitions around the world. As the official lane line of USA Swimming, FINA, and nine of the past twelve Olympic games - including the 2012 games - Competitor provides the best quelling lane lines in the world. Molded and assembled using U.S.-made components, Competitor products are durable, easy-to-set-up and store, and also includes stor lane reels, pace clocks, and backstroke flags.
Ready to see your lane lines come to life? Try Competitor's new Lane Line Wizard!