Item #:
50-065
Price:
Sale Price:

$1,305.10

$1,101.90



Ship Qty:
1 EACH
Catalog Page:
140
Ship Weight:
233 lbs.
PC #

RCH-35-8510
GOLD MEDAL DISCONNECT, 50 METER TO 2 - 75'
— Convert from long course to short course, and back, with disconnect feature, utilizing stainless steel pin and bronze clevis. Lanes are provided with Competitor take-up reels standard. Total lane length is always from the end of the take up reel to the end of the spring. If your lane line goes beyond the touching point of the walls and span your gutter then you will need extension hooks.
Lane line colors: any combination of red, white, blue, green, yellow, black, maroon, orange, gray, navy, purple and Vegas gold. When ordering above, 1st Body Color and 2nd Body Color will be alternated. Request the same color for 1st Body Color and 2nd Body Color for a solid color lane line.
Please view the documents on the Product Documentation tab below for more detailed information.
For Rules & Regulations, see our Partner's page for links to various industry and regulatory groups.
Ready to see your lane lines come to life? Try Competitor's new Lane Line Wizard!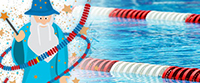 | | | |
| --- | --- | --- |
| Item# | | |

| | | |
| --- | --- | --- |
| Description | | |

| | | |
| --- | --- | --- |
| Price | | |

Custom extension "S" hook
Inquire

Competitor Classic Stor-Lane reel

$1,481.21




$1,239.50

Competitor 6" extension, 14'
$241.24

Competitor 6" extension, 7'
$189.21

Competitor extension "S" hook, 24"
$36.41

Competitor extension "S" hook, 14"
$31.17

Competitor extension "S" hook, 8"
$24.95

Competitor extension "S" hook, 2"
$6.75