Item #:
50-004
Price:
Sale Price:

$736.75

$475.60



Ship Qty:
1 EACH
Catalog Page:
140
Ship Weight:
92 lbs.
PC #

RCH-35-8507
COMPETITOR GOLD MEDAL LANE LINE, 60' — The Gold Medal lane line is designed to provide the swimmer with the ultimate in wave quelling, for fast water. The lane line has over 25% more reflective surface area than any other lane line on the market today.
The Competitor Gold Medal lane line has a large 6" diameter disc with donut floats strung on a vinyl-coated 3/16" stainless steel cable. Lane lines are provided with Competitor take-up reels standard. 15 meter markers, for backstroke breakout are provided in a contrasting color on each lane line, upon request.
Total lane length is always from the end of the take up reel to the end of the spring. If your lane line goes beyond the touching point of the walls and span your gutter then you will need extension hooks.
(Refer to above question: Connects through gutters? If yes, indicates extension hooks are needed.)
Lane line colors: any combination of red, white, blue, green, yellow, black, maroon, orange, gray, navy, purple and Vegas gold. When ordering above, 1st Body Color and 2nd Body Color will be alternated. Request the same color for 1st Body Color and 2nd Body Color for a solid color lane line.
Please view the documents on the Product Documentation tab below for more detailed information.
For Rules & Regulations, see our Partner's page for links to various industry and regulatory groups.
Ready to see your lane lines come to life? Try Competitor's new Lane Line Wizard!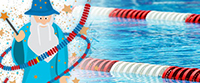 Sort by:
---
---
---

Competitor lane line hardware
50-050
$193.75
---
---
---
---

Protective stainless tile cap, 2-3/8" x 6"
50-525
$35.25
---
---